Introduction to Layouts: Nefertiti Cartouche; Anteglyphs
For Procession Orientation & Ascension; go here
Note: The focus of this article is considered 'fanon' and relate to member sponsored article collaborations. The term Anteglyph referes to any of the established and recognized alphabetical symbols used by the Cartouche to convey information and other material on topics stated as being inappropriate for general audiences. The term may also refer to the underwriting used to establish such symbols, there translation processes, annuciation processes, paraphrase usage and programmability, there logic bases, there exemplification and such systems of exhibition.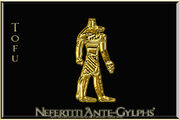 Welcome to the Layouts: Nefertiti Cartouche; Anteglyphs
base page for all Nefertiti Wiki fanon study groups. This page focus is the Layouts: Nefertiti Cartouche; Anteglyphs. It also gives general information into the background and etymology of the symbol and any transcribed definitions that may be observed.
Licensing
Edit
Template:EVI Class Six: SuperWikia Alpha ED-C2 End User License
---
Category Nefertiti Cartouche; Anteglyphs not found