Nefertiti Fanonical Cartouche
For Procession Orientation & Ascension; go here
Welcome
Note: The topics in this section are considered 'fanon' and relate to member sponsored article collaorations. The term Cartouche referes to any group contribution made which is inter-dependent of other articles on the same subject or topic.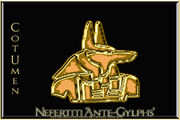 Welcome to the Nefertiti Fanonical Cartouche
base page for all Nefertiti Wiki fanon study groups. This page uses the below outline to help you build your symphony dossier and improve your tourney score by providing you with an array of contributor-based information.
---

Starting Prologue & Bylaw Library
Ad blocker interference detected!
Wikia is a free-to-use site that makes money from advertising. We have a modified experience for viewers using ad blockers

Wikia is not accessible if you've made further modifications. Remove the custom ad blocker rule(s) and the page will load as expected.